By Sean Wells - Posted in: Sports Performance - 8 APR 2019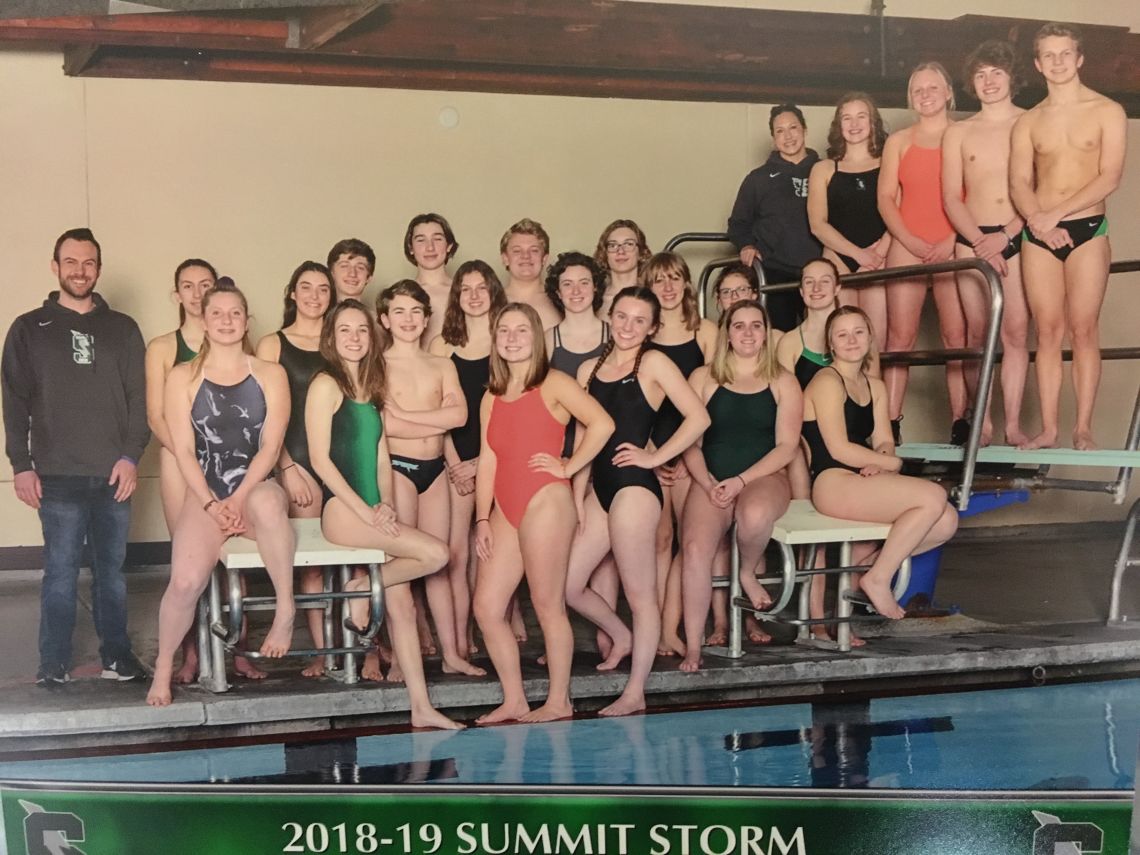 *Image courtesy of Summit Swim Team 2019

Oregon CrossFit has worked with Summit High School Swim team over the past two years in order to help the Swim team maximize their season and improve their results. Due to the swimming pool access or lack thereof, swimming at the "normal" level for a high school team was not a very realistic option. Their coach was open to training methods outside of the norm, which subsequently has lead to success for the Swim team and improvement of the individual athletes.

Before we get into the details of the training, it is important to discuss the background of the coach and her experience as a swimmer. Head Coach, Sierra Fletcher, grew up swimming in Bend, Oregon for the Bend Swim Club, at Mountain View High School, as well as Summit High School. She was a member of several Junior National Teams and qualified for Senior Nationals. After high school, Sierra swam on scholarship for the University of Wisconsin where she was part of the traveling team and a letter winner. Sierra moved back to Bend in 2014 with her family and began working as an assistant swim coach at Summit High School. In 2015, the head coach retired and since then, Sierra has taken over as the Head Coach, leading the program for the past three years.

Sierra's training experience for swimming could generally be considered as traditional swim training. Due to that traditional training history (detailed below), she was slightly skeptical of what we proposed as a training routine, but the lack of pool access and training times available to her swimmers, she was willing to give the program a try. Starting in 2018, Oregon Crossfit's Sports Performance created an optional test run for the Summit High School Swim team, offering non-traditional training in addition to their traditional pool time. A few swimmers opted in and Coach Fletcher was impressed with their results. Even with the limited training and optional sessions - several of the swimmers that were in the program experienced time drops in their events. In particular, a Senior with no previous strength training experience since he began swimming full time. He was able to reduce his times in the 50 and 100 free during the high school season and shortly after the season he made his Junior National cut in the 200 fly - a performance that was greatly improved by his newly adopted training regimen.

In 2019, the scope was planned to increase and also to shake up the traditional training protocol for a swimmer. Coach Fletcher sums up the traditional programming here: "The typical swim program focuses on being in the water as much as possible. Traditional programs believe that being in the water every day and swimming as much as possible is the best way to improve your performance. For 2019, we swam 3 days a week and trained in the gym 2 days. Our consistent Sports Performance participants saw significant time drops and significant overall health improvements."

The 2019 swim team saw significant improvement and time drops all season long from the athletes that participated consistently in the program. In addition to the improved performance, Summit Swim Team also saw that the members partaking in the OC Sports Performance training also felt an increased level of self-confidence, a healthier body image, and also boasted a GPA average of 3.8 or higher.

Sierra said this about one of her 2019 Swimmers:

"This year was one athlete's first year on the team - she was a Senior who had participated in other sports her through her high school career. She suffered from extreme anxiety and in the first couple of weeks had a very difficult time even making it through practice without an episode. Her confidence levels were low - she would choose to swim with those whose ability did not match her own, she would pick weights up that were far below her ability level, she would struggle before a race with anxiety attacks. As the season progressed, her anxiety levels reduced - she began leading the fast lane, helping others, and by the last meet was asking to be in certain events so she could race others and see more time drops. She ended up dropping over 15 seconds in her 200 free from the start of the season to the end."

Another athlete also experienced great results, detailed here:

"We also had an elite Sophomore swimmer this year who trained on a club team for several years. He trained traditionally with swim practice every day, sometimes twice a day. This year he trained exclusively with the high school team for the season. He practiced in the water 3x a week and trained in the gym 2x a week. There was a lot of criticism from other coaches about his limited amount of time in the water and a lot of opinions about how that might affect his end of season results. He was also able to see significant time improvement! His 100 fly went from 54.80 at the end of the year last year to 52.97 at the end of the year this year. He also demonstrated significant mental toughness - having the flu at the state meet this year and swimming through it to serve the team."

Training with variety and utilizing proper strength training methods will optimize performance for any sport. The needs of all athletes is uniformly shared: continue to improve strength, increase body awareness/control, and then put those improvements into action; manifesting in improved results in their chosen sport. To see related training articles you can see them here: "How to develop speed" , "How to make someone faster in a sprint" , "Training Cross Country/Distance Athletes" ,"Reverse Hypers" and "Inverse Curls" .
---